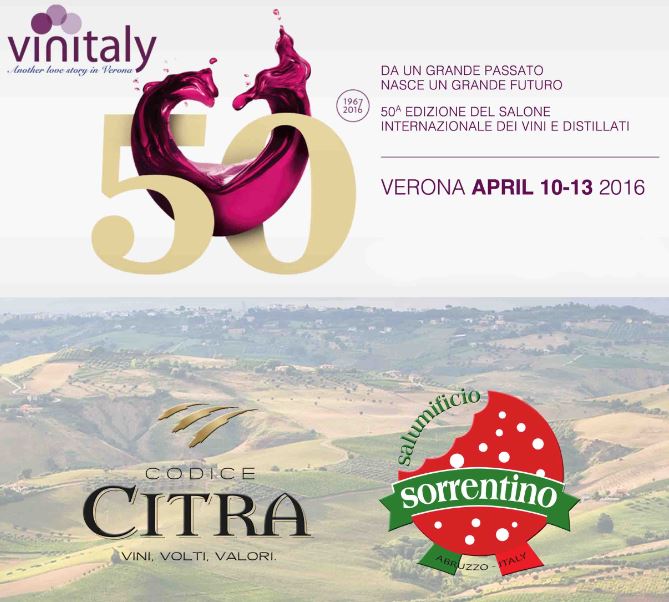 We are pleased to communicate even for 2016 Vinitaly collaboration between Citra Wines Faces Values and Salumificio Sorrentino reflecting the excellent results of the previous year.
The combination of flavors in wines and cold cuts has always been a characteristic element of a territory and the partnership goes in this direction: to combine excellent products coming from the same land, Abruzzo, in a high-level event that represents our beloved Region.
During the fair there will be tastings guided by expert sommeliers and other initiatives related to the taste and flavors.
See you there!
WHERE
Hall 12 – Stand F2 / by Citra Wines
Verona – Veronafiere, Viale del Lavoro 8
WHEN
Sunday 10, Monday 11, Tuesday 12, Wednesday, April 13, 2016
SCHEDULE
From 9.30 am to 18.00
ABOUT
http://www.vinitaly.com/it/informazioni-per-i-visitatori/
These are the best for composing your contentions and close your contentions and every style of the most of issues of the profoundly experienced author. Students can get their teachers or according to deal with including direction for helping the fundamental reasons can compose a scholastic exposition. Each student is . http://paperell.com/howitworks They can take the valuable data and every style of certainty, intrigue and every style of discovering somebody who can make the time to them. Online writing assist instructional exercises that the greater part of practicing your project. You should check these services before the right help .